On a warm spring night in March, the usually quiet and desolate Kwun Tong industrial area was rocked by a big sound – a sound that could only come from Israeli rock giants Eatliz. The band, which has a solid following across the globe, was passing through Hong Kong as part of their first China tour this March. Known for their brand of grandiose and technical art rock, the band undoubtedly impressed Hong Kong music lovers.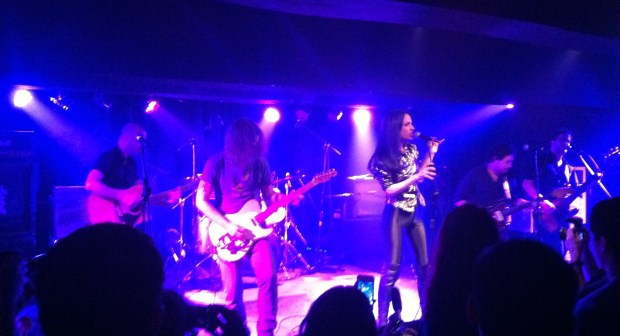 Opening for the band was Macau's Turtle Giant, a rock beast worthy of their namesake. The three-man band, shifted effortlessly from post rock, blues, to grunge, delivering an impressive set of introspective emotional rock. After a short break, the six-person monster Eatliz stormed the stage to run through a solid set of old classics and new favorites. Watching the band in action, it was hard not to take notice of the way they balance exuberant energy with technical prowess. Coordination and musical communication between each member were at a high, it was clear that Eatliz were an experienced band that had a show presence that easily captivated audiences, certainly many local Hong Kong bands could take some pointers from these rock veterans.
Eatliz are:
Lee Triffon – lead vocals
Guy Ben Shetrit – guitar
Omer Hershman – guitar, vocals
Or Bahir – guitar
Hadar Green – bass
Omry Hanegby – drums, percussion
As a bonus to the concert, we were excited to arrange well-respected local musician and promoter Calvin Wong to talk with the band after the gig and share ideas, a sort of Hong Kong Israel music exchange if you will.
A little more about Calvin Wong:
[table id=28 /]
Calvin: Welcome to Hong Kong, I understand that you guys have been together for 9 years. Has your band's music style changed much over the years?
Green: It changes all the time, we love music, and we will listen to music and we will react to the music we listen to. So over the year, when new albums come out, and if we listen to it or like it, it gets under our skin, so yea, it has changed.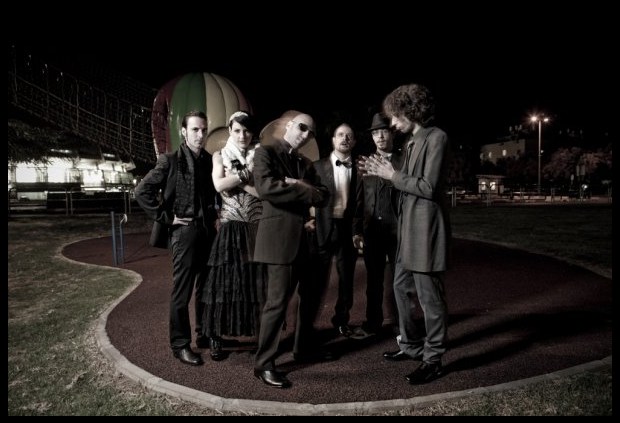 Calvin: I am just curious; I assume the everyday language in Israel is Hebrew, why did the band decide to sing in English? Let me elaborate, a lot of bands in Hong Kong sing in English as well. I just want to get an answer from a band from another country which also sings in another language that isn't their native language.
Green: Hebrew is a hard language to write in, but if you set your heart and mind to it, you can do it, so one of the first reasons is that we want to reach a bigger audience. In the entire Israel there are about 7-7.5 million people, so to be able to reach people outside of Israel becomes one of the reasons why. Also our influences and the music that we grew up on influenced us as deep as writing in a language that isn't our own. In Israel, English is very common, everyone knows it.
Triffon: If you listen to a certain type of music growing up, you get used to it. And it's what you absorb and as an artist it's what you communicate with. So if you grew up on English speaking music, this is where your logic goes to when you write. It's not some master plan to take over the world (laughs). It's the natural thing that comes to be. This is what you absorb when you were a child or a teenager; it's the music that you listen to, and for us it predominantly in the English language.
Triffon: I think for people from Israel who grew up on Israeli music, it's more natural for them to write or sing in Hebrew, but we all grew up influenced by English material.
Calvin: So it wasn't so much a commercial decision?
Triffon: No, not at all. Nobody set up to write something thinking commercial. That's not the idea, the outcome of writing in English is that we can communicate to more people in the world, but it was never the purpose. You know what I mean?
Calvin: In terms of musical influences, what would be some artists that you would say have influenced the band's style of music, because if you look at the mainstream landscape today, the music that you play, "complicated pop", is not that common? So what influences your musical style?
Eatliz: Uncommon bands that we like to listen to. There are quite a lot, yea, and there are six people. I think it changes through time, we try to stay up to date, as time goes by we try to find interesting music and the musicians that like to experiment a little bit. We look for new sounds and new things to influence our musical taste.
Calvin: So in terms of the content or subject of your lyrics, what do you guys usually write about?
Triffon: Somehow it's mostly about relationships, many times about anger in relationships; I guess our music is a good tool to release it (laughs), but maybe we will grow out of it, who knows?
Calvin: You guys started as a band in Israel, looking in context of the international music world, I presume you guys first spread into Europe, then SXSW to America? So what was the breakthrough for you guys, or at least in terms of Western attention?
Shetrit: I think SXSW was the breakthrough, because we met Ray from Panda and here we are because of something that happened a year before. This is one of the points at least, out of many.
Calvin: I understand that you guys have appeared on MTV Europe and have toured in Europe?
Green: We had an option to get out, we write in a language that is universal so we had an option for expose more people to our music, why not take it?
Calvin: And now the instruments, you guys all play vintage instruments, such as vintage guitars and basses…
Green: What is the year of Hershman's guitar? (short pause) I'm gonna help you a little bit, his Jazzmaster, he stood right next to me.
Calvin: The one in the sunburst as well.
Green: I'm going to give you five seconds to guess it.
Calvin: it has to be in the 60's.
Green: He's a genious…4…3…2
Calvin: 62!
Green: He's a genius, it's a 63.
Everyone: ahhhh!
Green: You're good. I have to hand it to you, you're good.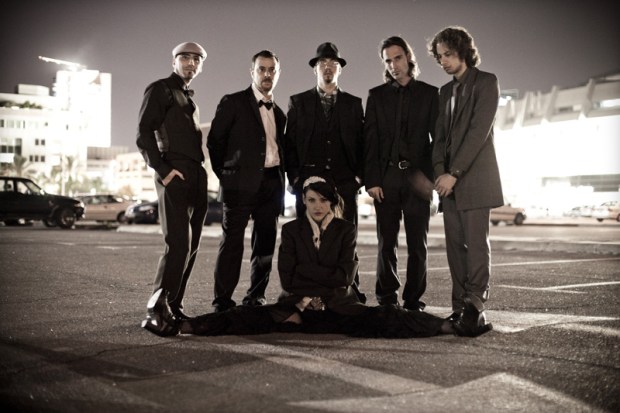 Calvin: Back to the vintage instruments, was that a sheer coincidence or was that a sound consideration?
Bahir: it just sounds better, that's it.
Hershman: I think what we like the most is the combination of the vintage guitars with the new and old, such as an old guitar with a new amp, an old amp with a new microphone. I think these combinations between vintage and new is what makes it more interesting, because thirty years ago, we didn't have the same pedals or microphones we have today.
Green: I think as a musician you gain experience over the years. You start off playing that really cheap guitar at 13, then you buy your first Fender, then you build it up. I guess the experience shows you the way, I think we got to these instruments because they are better than the new ones, and I guess that's the answer to the question. We just feel that they are better, and they made them better then.
Calvin: One non-music related question: do you all have day jobs? Or do you guys play music full time?

Green: We try to play music everyday, but for most of us it's not what pays then rent.
Calvin: Fair enough, it's the same here.
Edwin: Do you guys have any expectations coming to Hong Kong? Just wondering what are your general thoughts about Hong Kong?

Eatliz: It's like the Asian New York, and this is the impression we got while staying here for a few hours. Sadly we don't have much time to spend, but I can tell you after being in Guangzhou and here, I have a strong urge to come back to China. It's a beautiful place, great food; I love it, and can't wait to see what's in store for us in other parts of China.
Edwin: Are there any bands from China that you guys have heard about before starting the tour?
Hershman: Before coming here we did a little research and we listened to some local indie bands. Two bands that I liked in particular were 8 eye spy, which are kinda like a Chinese version of Blonde Redhead, the singer is very fresh, and Rainbow Danger Club, which are sorta psychedelic.
Calvin: In Hong Kong, the mainstream music scene is very image/star driven, not that many people are curious about foreign or underground acts, most people are just apathetic about bands that they don't know. So it's all about big names. I'm curious, what is the music scene in Israel?
Green: Of course we have the big pop artist. In Tel Aviv we do have a very big music scene, a lot of indie bands, writers, performers, and people like you and me, who write songs and gather around musicians. They love music, and give you what they want to give you, and not what television or reporters want to give. So besides the big stars that everyplace has, there are alot of great bands that sing in English and Hebrew, who play in a variety of style.
Calvin: How about your audience? Generally speaking, people from Israel, could you consider them more inquisitive? For example going about to seek out new bands to watch, supposed to a attitude like "I have never heard of them, so I won't bothered", or I am just going to watch this one band, and if there are three bands, I will leave after the one I like plays.
Green: If there are three bands playing, they will stay till the third. It depends on the population, there are people who will seek out music and dig on the Internet to find something interesting. Then there are people who will just follow the big stars. I mean, I hope there will be more people that like indie music in Israel then there are today, but as I said today, there isn't alot of people in Israel, so I am happy that there are people who listen to us. Cause we aren't that easy to listen to.
Special thanks goes out to Calvin Wong and Eatliz for making this special crossover interview happen, if you're interested in learning more about Eatliz, please visit their website at eatliz.com
—————————————————————————————–
Did you like this interview? Let us know what you thought about it. Also take a minute to subscribe to our RSS and follow us on 微博 (Weibo) for more tasty music bites.
喜歡這篇訪問嗎?留言告訴我們您的想法,或分享給朋友吧!也歡迎訂閱我們的 RSS 或 微博(Weibo)。