For fans of dark music, look no further than Singaporean band The Observatory. Founded in 2001 and known for their moody brand of space rock, the indie quartet will be stopping in Hong Kong as part of their "Incantation" Asia tour this Wednesday night (20/11) at Hidden Agenda.
We caught up with the busy band via e-mail to get the scoop on everything from their newest album Catacombs to noodle of choice?! Read on.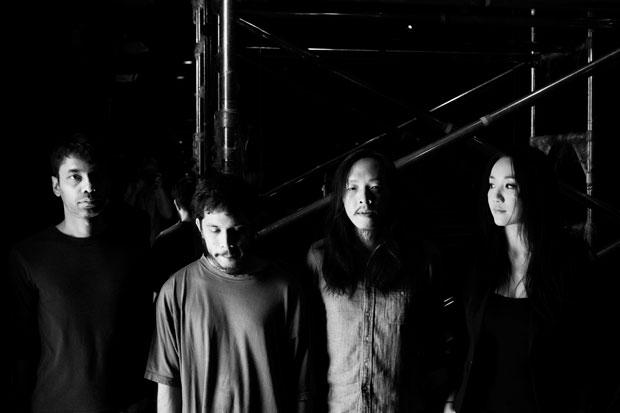 While a lot of bands stick to a sound that works, The Observatory seems to reinvent (or refine) their sound with each new release; could you tell us what are some of the inspirations behind this chameleon-like-band trait?

Dharma: It always feels/felt like a natural thing to do for us. Maybe the inspiration is the feeling that doing the same kind of music all the time is not exciting.
Leslie: The chameleon idea is not entirely original. There are bands that change from album to album like for example a band like Talk Talk which has been inspirational to the Obs' trajectory. We are also from a country that has gone through tremendous change in a short period of time. Every thought grows old quickly. The changing landscape has definitely affected our psyche as a band. Having this idea as a backbone has helped to free up our creative minds and also to keep up with the pace of change in Singapore. Our music has always been lyrically a reflection of our everyday lives and mindsets from a personal perspective.
Tell us about your new release Catacombs. I think it's safe to say the band is no strangers to dark music, but the new album seems to be particularly dark, minimal, and brooding, harkening to the likes of Joy Division, Tom Waits, and the Jesus Lizard. Were the band members going through difficult times during the recording session?
Dharma: Actually Catacombs is the album that we did the fastest as compared with all our previous albums. We wrote it in a span of 2 months or less and recorded it within a week. So there were no particular difficulties during the sessions. The darkness in the sound is something we naturally gravitated to and we liked what we came up.
Leslie: Catacombs is about mental deterioration. It's quite a common sight in housing estates to see some older folk with mental problems wandering the streets, and talking to themselves. Maybe even talking to strangers out of the blue. One can't help but feel that the system has failed them somewhat. Or perhaps they had willingly checked out of the system because they were hurt by it or didn't believe in it. These themes were explored in Dark Folke as well but more prominently in Catacombs. The recording sessions were done in Bergen, Norway. It was during winter, it was raining a lot and we only saw the sun for a handful of hours before it was cloudy and dark again. It did contribute to the mood of the album. Cold, wet and gloomy. Despite the elements, it is still an album that we are proud to have made.
I know the Hong Kong stop is part of your Asia tour, why did the band decide to do a show in Hong Kong, and what are your general thoughts on the city?

Dharma: I have been to HK only once before many years ago and it was for less than a day so I cant say much about it. I know there is the similarity with Singapore as in it is a dense city. We like to play in almost any country. It gives a chance to meet fellow artist and musicians. Also to experience the country. I'm looking forward to play in Hong Kong, that I'm sure.
Leslie: I have only been to Hong Kong once and only for a weekend. So I'm looking forward to getting to know the country a bit more. My great grand mother came from Hong Kong, so TVB serials, films and music were a big part of my mother's family psyche.
What bands are you all listening to now?

Dharma: I'm listening to the new album by Death Grips, Zia Mohiuddin Dagar, OM and Krzysztof Penderecki.
Haykal: I've been listening to drummers or compositions for percussion recently. Chris Corsano, Iannis Xenakis, John Cage, Zach Hill, Glenn Kotche, Tony Williams and Billy Martin.
Leslie: At the moment, a lot of Neil Young.
The Hong Kong music scene is still dominated by pop stars and import music such as kpop, jpop…etc. Although we are starting to see a wider coverage of alternative music over the years, I think we have a long way to go until indie/alternative music gets accepted on a mass scale like it is in Western countries. Can you tell us a little about how it is for the Singapore music scene?
Dharma: It's quite the same in Singapore too. People mostly listen to foreign bands. A lot of these bands come to Singapore as well. But in the local music scene there are a lot of indie rock/pop and post rock bands, that I would say is the most popular genre among local bands. The experimental music scene is rather small.
Haykal: Singapore's going thru this "Music Industry" phase where most musicians if not bands are going ape shit about turning this making music thing into a career. I don't understand it because it's silly. Suddenly, just because it seems financially more sustainable people want to take making music a little more seriously. This I feel is exactly the kind of "hope" that the culture industry has been attempting to lure people into, that 'you too can be part of your own cultural revolution.' It's interesting to note and observe how recently music seems to be a thing the state is interested in cultivating, if not export. Singapore music scene, in this instance, is eclectic. There are those who are hoping to become as successful as salesmen and those who are still making music regardless the situation they are in. I won't say much about the diversity in the forms of music in Singapore other than the fact that it exists, there's the mainstream and the alternative scenes with some in between.
Leslie: There seems to be a lot of music going on now in our scene. Different genres. New bands. But it is not accepted on a mass scale, like island-wide. It is still in its humble beginnings. The sooner the media supports it, the quicker mindsets would change.
THIS OR THAT?
Night or Day?
Haykal: Night. It's quieter. Day is too busy.
Leslie: Light and dark are both appealing to me.
Led Zeppelin or the Beatles?
Dharma: Beatles (for today)
Leslie: Both bands have been influential.
Cat or Dog?
Haykal: Cat
Leslie: I have had both cats and dogs so it is difficult to be partial.
White or Black?
Haykal: Black.
Leslie: You know what I'm going to say, both
Laksa or Wonton noodles?
Dharma: Wonton (in Hong Kong for sure)
Leslie: I recently had Laksa before leaving for the tour, right now though, I would like to have wonton noodles, Hong Kong style.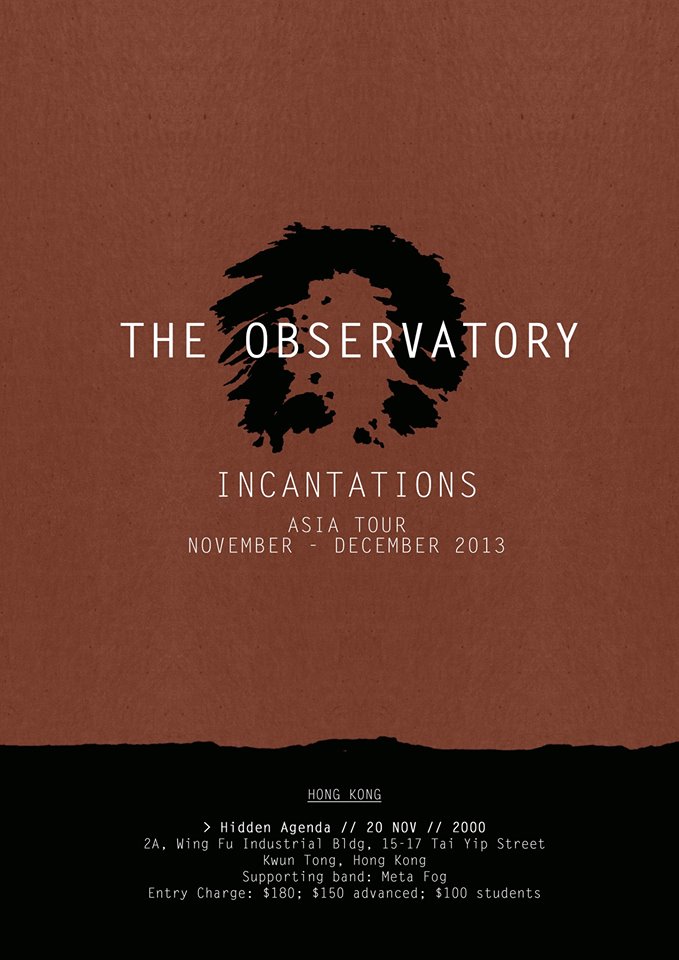 The Observatory Live in Hong Kong
Date: 20 th NOV 2013
Time: 8:30pm
Guest : Meta Fog
Ticket : $150(Advance) $180(Door) $100 (Student)
*全日制學生享有即場六折優惠。
*40﹪OFF walk-in discount for full-time local students
地點 Venue:Hidden Agenda
香港牛頭角大業街15-17號永富工業大廈2樓A室
2A, Wing Fu Industrial Bldg, 15-17 Tai Yip Street,
Kwun Tong, Hong Kong
Facebook Link:
https://www.facebook.com/events/182250801966211/
—————————————————————————————–
Did you like this interview? Let us know what you thought about it. Also take a minute to subscribe to our RSS and follow us on 微博 (Weibo) for more tasty music bites.
喜歡這篇訪問嗎?留言告訴我們您的想法,或分享給朋友吧!也歡迎訂閱我們的 RSS 或 微博(Weibo)。