Providing the soft, ethereal voice behind the track "If Only I Knew" from the trip hop icon Tricky's ninth studio album False Idols, Fifi Rong is an up-and-coming Chinese musician based out of London. Blending traditional Chinese sounds, trip hop, dub, and UK garage, Rong's music is tied together by a striking Chinese visual identity, which has helped her reach a broad audience in her resident London. Now after playing the Western Hemisphere for most of her career, the China born artist will bring her sound to her native country. After playing two shows in Hong Kong in celebration of Love Da Records first ever vinyl compilation which features the aforementioned track, Rong will be heading on a Mainland tour that includes stops at Beijing and Shanghai. We caught up with the busy musician days before her Hong Kong debut show to see what she thinks about the city and beyond.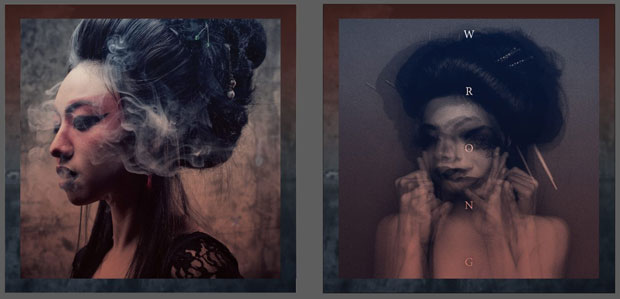 Can you tell me about yourself and your music? To me, your work reminds me of the dark and minimal sounds of trip hop. What are some of your influences?
My music definitely has a trip hop feel to it, but it's just a part of my influences. I would say my music is more of a hybrid. For example, when I was growing up, my mother would listen to a lot of Chinese revolutionary songs, such as ones about Chairman Mao. This is because my grandparents and family used to be in the army and were into that type of stuff, so that was the environment I grew up in, and you can see how it influences my music; it's in my blood.
I went to the UK early on and my boarding school was near Bristols, it's during this time I started listening to Cocteau Twins, Radiohead, Stereophonic, and Portishead. I really like British music, cause there is a sense of realness to it, it appeals to me more compared to American music, which I feel is less personal. To me there is more sadness in British music, for example, "If Only I Knew" makes me want to cry, but it also makes me feel stronger at the same time. A good song does not have to be sad to be touching, that's exactly what I want to do with my music.
My all-time hero is Martina Topley-Bird, just listen to the song "Helicopter Girl". She's got that vulnerability, even when she is singing a happy song it makes you want to cry as well. There is something that is more soulful there.
Tell us about your self-titled album Fifi Rong released for the Asia market.
I've released a few albums independently over in London, so it's more like a selection of songs from those releases. I wasn't expecting to come to the Asia market so soon, as I didn't expect there to be a big demand, but Chinese content providers such as Xiami were asking for it so we needed to get something released for Asia. It's a pleasant surprise to be honest.
What songs would you recommend for first time listeners? Are there any songs on the album you feel most define your music?
Song-wise, I think "56 weeks" is a perfect balance of my sound and songwriting, but my personal favorite has to be "Time". You know the feeling you get when you are in the zone? The songwriting process for "Time" felt like that, it came naturally. The song was written during a vulnerable time in my career, and is about being insecure and having conflicting feelings. I think people may be able to identify with the emotions expressed in that song. Also, "For you" is another song I feel strongly about.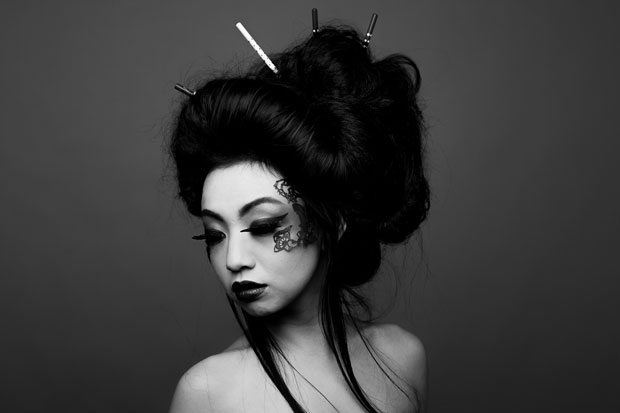 Any expectations for your debut show in Hong Kong? Have you been in the city before? Anything Hong Kong audiences should know before seeing you?
I spent my adolescence in Shenzhen, and the first time I came to Hong Kong was when I was 12 and I really loved it. It's like London times a thousand, everything is so beautiful, everything is so modern, and exciting. I don't have a whole lot of expectations, as I feel I am blessed to be playing here in the first place; I've done empty shows, full shows, and everything in between. So any turnout will be good, as I've never really performed in front of a Chinese audience before.
Interesting you mention that, what type of demographic do you find likes your music the most?
People have told me that I have a very diverse audience group, all races, all nationalities, pretty much all age groups really. People come up to me and say they like to study while listening to my music, then there are heavy metal bands who like to listen to my music when they are not doing heavy metal, or sixty year old men, who grew up with Pink Floyd who enjoy my music. I think it's because of that hybrid element I mentioned earlier.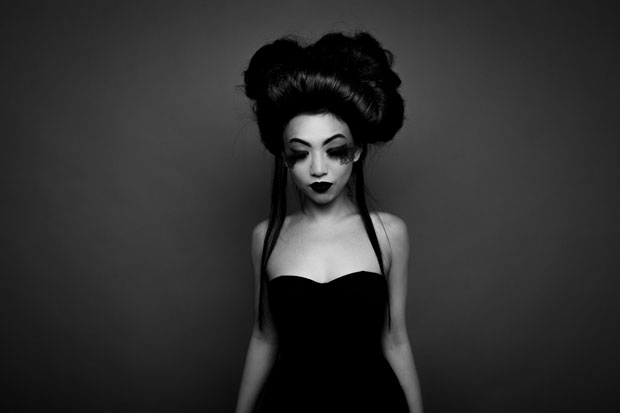 You will be touring China after the Hong Kong stop, any thoughts about that?
I feel quite proud and blessed at this point; we recently took part in the Youku program "Travel with Music" and other Mainland outlets such as XiaMi have reached out to us, so I feel very fortunate to have a chance to bring my music back to the Mainland. It all correlates with my main missions to promote my own heritage and culture, I really want to provide a bridge for people to get into Chinese culture. To me that is very meaningful.
What are you listening to now?
I listen to groups like Mount Kimbie and Shiohmo. I like James Blake a lot, but it's hard to listen to, because it's very real and emotion, so I get a little sad and sentimental when I play his music. Also there is Taku, a producer from Australia. What draws me to this type of music is how unique and non-generic it is. I like hip hop too, like the stuff by Tyler the Creator. But these days I listen to more beats, because I want to improve as a producer.
This or that:
1. Night or Day?
Night
2. Sitting in or staying out?
Sitting in
3. Cat or Dog?
Cat
4. Massive Attack or Portishead?
Portishead
5. Bangers and mash or beef noodle soup?
Beef noodle soup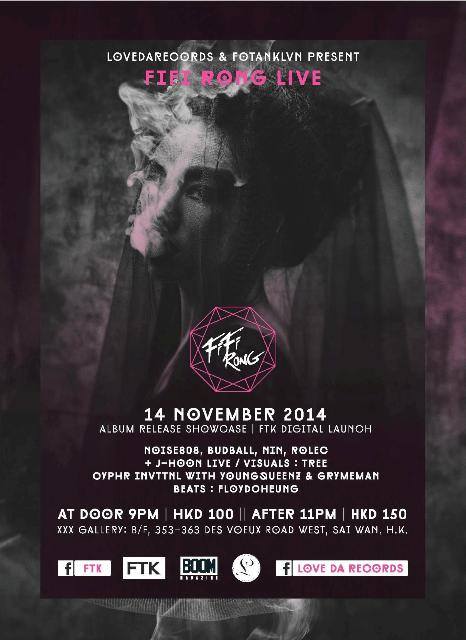 Fifi Rong Live in Hong Kong
Date: 14th November 2014
Time: 7-8pm
Venue: HMV Ideal
Date: 14th November 2014
Time: Doors Open 10pm
Venue: XXX
Guests: FTK crew, J-Hoon, Wild$tyle
Facebook event: https://www.facebook.com/events/321558998027578/
—————————————————————————————–
Did you like this interview? Let us know what you thought about it. Also take a minute to subscribe to our RSS and follow us on 微博 (Weibo) for more tasty music bites.
喜歡這篇訪問嗎?留言告訴我們您的想法,或分享給朋友吧!也歡迎訂閱我們的 RSS 或 微博(Weibo)。