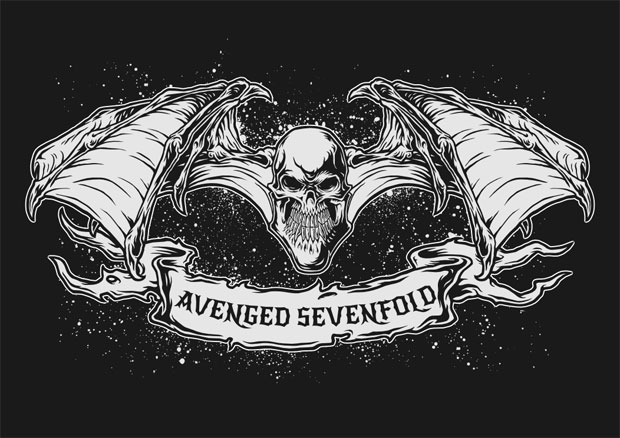 Excitement was high for American metal heavyweights Avenged Sevenfold (sometimes dubbed A7X) debut performance in Hong Kong. The group rocked the stage at AsiaWorld-Expo on January 14th, playing through many of their new songs and old classics, culminating in the song "A Little Piece of Heaven", which saw the crowd go wild. Formed over a decade ago, the award winning five-piece have released six studio albums so far, with the most recent being Hail to the King, which charted no. 1 in several countries. After the tragic death of their drummer Jimmy "The Rev" Sullivan, the band carried on with the support of Dream Theatre's Mike Portnoy until Arin Ilejay took up official drumming duties a few years back. Their performance in the city was part of their "Hail to the King" asia tour, which included stops in Korea, Taipei, Bangkok, and more. We caught up with the band during their hectic touring schedule to chat about our fair city and beyond.
How would you describe your music?
It's all over the place honestly (laughs). Every record is completely different and each song is its own journey, and we don't really stick to any particular genre, metal, hardcore, punk or rock, you name it.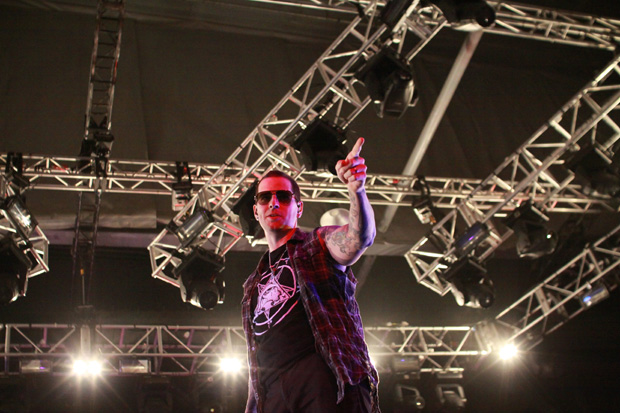 What is your live setup? Is it very different from your studio setup? Also, is there a difference in your setup between touring in the East and West?
It's a little different, we still use the same amps, but mics can sometimes be different among other things. Durability is very important, we are always on the lookout for items that travel well and maintain quality.
Production wise it is hard for us to pack up the show we do in America and bring it all over the world, instead what we do is we try and bring our own crew to run the equipment. Because we are flying almost every day, we don't have a lot of time to setup. Bigger bands like Metallica or Aero Smith usually get a few days to setup, but we have to get in and out quickly.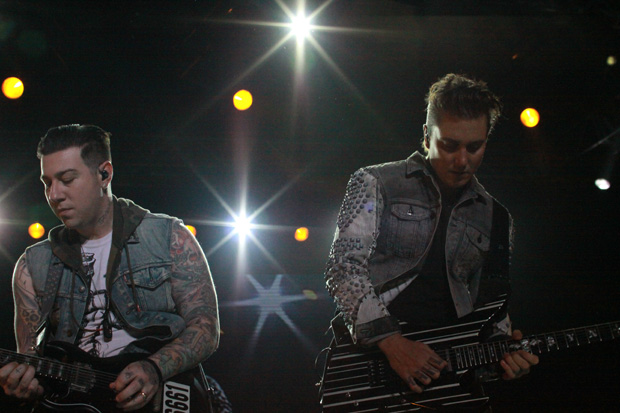 Are there any goals you guys want to achieve as a band?
We don't really have any goals, but we do have dreams. We never really knew what being a big band meant or where that would take us. There are different degrees of mainstream, for example, rock music in America, you could be the biggest rock band but it's still not exactly considered mainstream.
Mainstream in the U.S. is you know Katy Perry or Rihanna, that's what mainstream is. If you get down to the technical numbers of it, a band like us, I think we were the most played rock band in the country next to Pretty Reckless last year, and our numbers are dwarfed by a real mainstream artist. For example, someone like Rihanna is getting 40 million plays a week and we are getting 2000. So that's mainstream. I think kids get all misconstrued thinking we are a big rock band, but for us we just write the stuff we like, and no one comes to us and tells us what we have to do, we just do what we want to do.
We want more people to hear us; we want people to be introduced to rock music and metal music. There's always a band that brings you in and makes you dig deeper, then you find all the stuff, you find the European metal bands, and you start to get into the old stuff like Zeppelin, AC/DC, and Guns and Roses. We don't mind being that band and we want to be that band and gets more people to listen to rock music.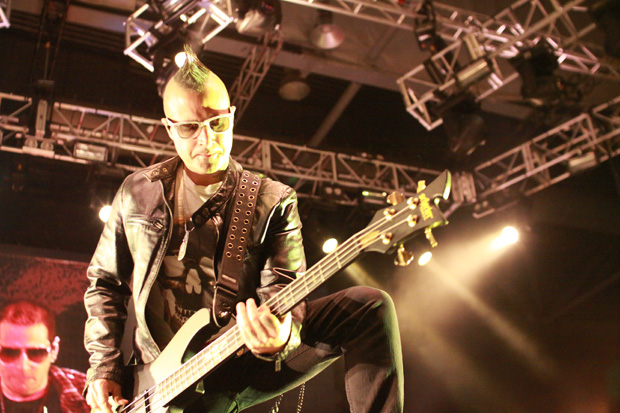 So what's the band that influenced you guys to get into heavy metal?
I think we have different ones, for me personally (Synyster Gates) I like some weird stuff. Mr Bungle is one of my favorite bands and Pantera is exactly what I want to be. I think they embody that creative liberty to do whatever you want and sound the heaviest.
My (M. Shadows) dad first got me into mainstream rock like Nirvana and Guns and Roses. I really liked Guns and Roses, but they are more rock and roll. Then I got into punk rock such as NOFX and Bad Religion, and I am still into that. But in around 1991 – 1994 a bunch of records came out, there was Pantera's Cowboy from Hell and Vulgar Display of Power, then Slayer released Divine Intervention all these records came out and turned me onto heavy metal.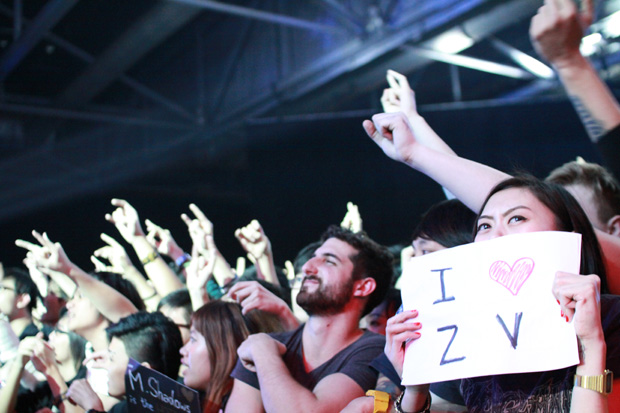 Can you tell me about your creative process and how it changed from when you guys first started playing?
It's always different; every record depends on what the goal is. For City of Evil it was more of a European metal influence, we were just trying to prove our chops and show everyone we could play. For the White album, we wanted to groove more, so we just got crazier, we have something like a country song and there is "A Little Piece of Heaven" which is crazy in there. On Hail to the King we wanted to write something that was a complete throwback to what we grew up on and introduce kids to a more simplified rock and roll sound. Every record has its own vibe and we try to hone that in.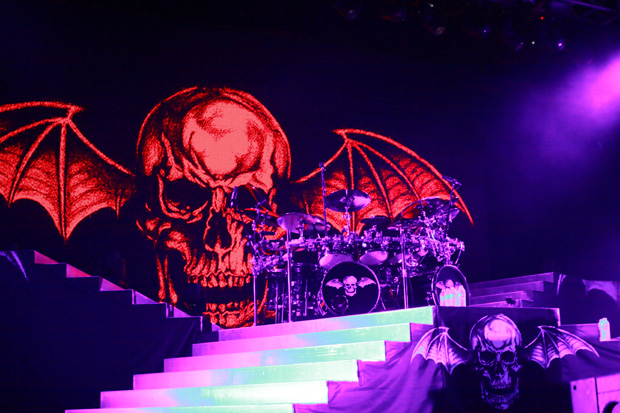 So during the creative process, when do you know a song is done?
It is different every time, we get together and each of us point out things we like and try doing our take on it. More often than not, one day we would think this is the best song ever, then the next day we would be thinking to ourselves, what were we thinking? (all laughs)
I think it is about being honest, cause so many things are filtered through that process and are thrown out. Sometimes we all pitch in or sometimes someone brings an awesome idea and we work on that, it's always different, and every record has been a different process. For example Hail to the King had a very strict guideline to what we wanted to do, on other albums there are no guidelines and things were all over the place. So it's always different.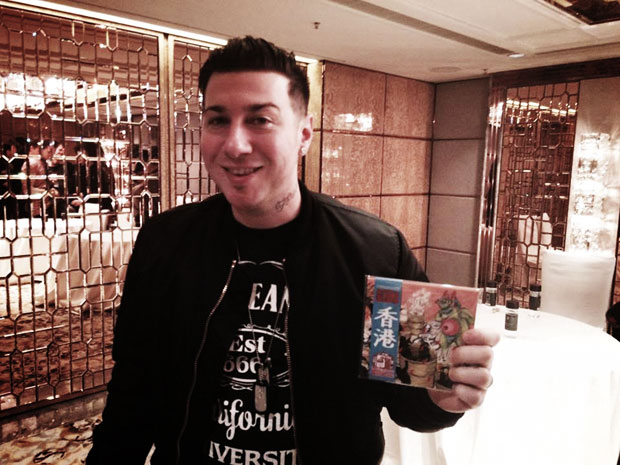 When you do a song do you consider how well it translates live?
We never used to; and I think that's why the old records don't really translate that well live, they are very fast and technical and when you are playing in a very big setting, things will get lost. The technicality will get lost, and the sound just starts bouncing everywhere. We learned that in 2006 watching Metallica play live in stadiums, they were playing the old stuff, and people liked it because they knew those songs, but the sound quality wasn't as good as when they just slowed things down and hit some of the big groove songs. So sometimes we do think about that, for instance, when we are writing songs, we think in terms of how it will work live. For example Nightmare, we knew it would be great for live shows, and it would also be great to open for the record.
With so much experience under the band's belt, do you think it's harder to write songs?
I think it is something we think about; in terms of letting some things go and trying not to over-think. I think it is a mountain that most bands come to at a certain point. It's like a fork in the road; do you go this way or the other way? We are going to keep on throwing curveballs, because we like to go the road less travelled. Especially after making a slowdown groove record like Hail to the King, there's only one way you can go: even more rock and roll or a crazier direction, and I think we always choose the crazier path. To me that means less polish on the songs, but you still want to write great songs, so it's a balance.
—————————————————————————————–
Did you like this interview? Let us know what you thought about it. Also take a minute to subscribe to our RSS and follow us on 微博 (Weibo) for more tasty music bites.
喜歡這篇訪問嗎?留言告訴我們您的想法,或分享給朋友吧!也歡迎訂閱我們的 RSS 或 微博(Weibo)。