In this two part interview we caught up with French music acts Juveniles and Clarens who will be playing in Hong Kong as part of the French Miracle tour and Hong Kong's Le French May programme. The tour launched by ILCM and Ismaël Lefeuvre was created with an intent to export the talent of Rennes, France abroad. After successfully bringing a handful of musicians out of Rennes, This year the tour comes to Asia with performance dates in major Asian cities including Beijing, Jinan, Shanghai, Seoul, Hong Kong, Cheng Du, Singapore, and Taipei.
Before the show happens this Saturday, we did an e-mail interview with Clarens, one of the newer acts on the tour bill, asking him on things from his music, aspirations, to what he thinks is the best thing about France. Curious readers, read on!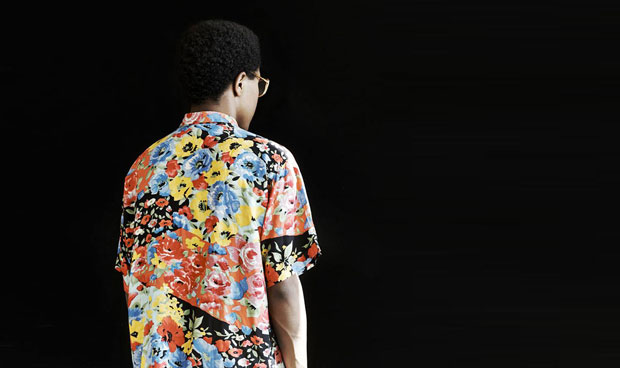 Could you tell us how you wound up playing for the Juveniles? What's the best and worst (haha) part about playing with them?
I met Juveniles in 2012 when they were looking for a fourth member for their first album tour. I didn't yet know how to play keyboards but Jean-Sylvain Le Gouic lied to the others to give me a chance. The best part about playing in a band setting is I don't have to think too much, and I can't say there is a worse part, everything is great about playing with them.
Is it true that you started the Clarens moniker and started making your own music through playing with Juveniles and touring around the world with them?
Yes indeed. I started writing songs when touring with Juveniles. The whole experience taught me a lot of things that helped me start my own thing. I just started writing songs on the tour bus, at the hotel, and time at home in-between tour dates.
What do you look forward to the most on this tour? Or any interesting stories to share from the previous stops?
I'm looking forward to meet new people and I can't wait to play in front of new audiences. Playing abroad is a very special thing and we all feel very, very lucky. We had a wonderful time in Beijing, we spent 3 days walking and visiting. As I speak we're heading to Jinan!
Are there any musicians you aspire to be like?
I aspire to be like Lionel Richie. I look like him, half of the work is done.
Was it your childhood dream to become a music producer / musician? If not, what was it?
I started to think about becoming a musician around the age of 15 when my father gave me a guitar for my birthday. I was into Nirvana, Led Zeppelin, and rock music in general. Then I got into electronic music but I still play the guitar.
What advice would you give about achieving goals?
To achieve your goals you'll need to work very very very hard. You'll also have to believe in yourself.
Is there anything that intrigues you most about Asian culture?
I guess it's food. We tried a huge amount of different food since we arrived. Veggies, meat, rice, everything tastes so good! We even tried to eat fried insects, which believe me is something really different from what we're used to eating.
Have you guys heard of any bands from Asia? If so, who do you guys dig the most?
We haven't really heard of any band from Asia yet, apart from Nova Heart since Helen (Nova Heart's singer) invited us to play in Beijing. That's part of the fun though, as we are here to discover and take in as much as we can, that's what the French Miracle Tour is all about.
What's the best part about being French? And what would you say is a must visit for people visiting the France?
If you ever come to France, you should really visit Saint-Malo which is the city where I come from. It's on the seaside in the North, the beaches are beautiful. You should also visit Paris of course, and the South (Toulouse, Marseille). Corsica is a wonderful place as well, some of the most beautiful french landscapes can be found there.

This or That questions:
Night or Day?
Answer: Night
Beer or Wine?
Answer: Beer
Daft Punk or Justice?
Answer: Justice
Monochrome or Colorful?
Answer: Colorful
Baguette or Cha siu bao?
Answer: Baguette
Denim or Chinos?
Answer: Denim
Thank you Clarens for participating in this interview, learn more about Clarens on his Facebook and Soundcloud.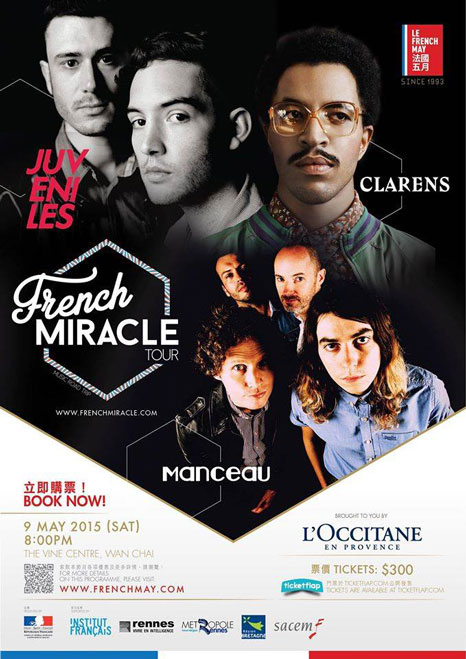 The French Miracle Tour: Clarens, Manceau, Juveniles
Date: 9th May 2015
Time: Doors Open 8pm
Venue: The Vine Center Wan Chai
29 Burrows Street, Wan Chai, 852 Hong Kong
Facebook event: https://www.facebook.com/events/566718143470168/
Get your tickets on Ticketflap: http://www.ticketflap.com/en/events/503/
—————————————————————————————–
Did you like this interview? Let us know what you thought about it. Also take a minute to subscribe to our RSS and follow us on 微博 (Weibo) for more tasty music bites.
喜歡這篇訪問嗎?留言告訴我們您的想法,或分享給朋友吧!也歡迎訂閱我們的 RSS 或 微博(Weibo)。"> 微博(Weibo)。