In continuation of our previous interview, we caught up with synth-pop indie-rock duo Juveniles for a short e-mail interview. Read on to see what the band had to say about their visit to Hong Kong this time.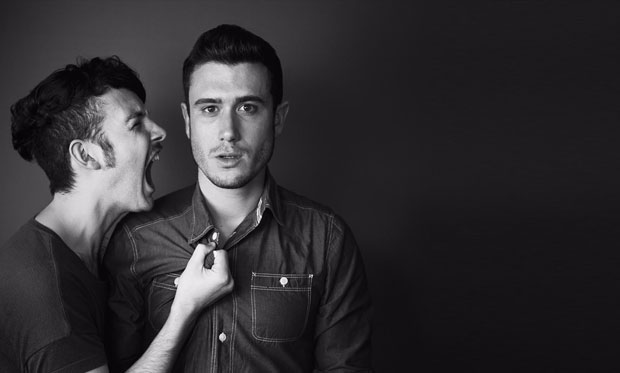 So the French Miracle tour brings you guys around Asia for a slew of tour dates. What do you look forward to
the most?
It's our second time around and we had such a blast last year. This time we're also on the road with a film crew and it's going to be a hundred times more fun. Besides we're gonna meet again with some friends there.
For people who may be hearing your band for the first time, what song would you recommend? Also, what can
people expect when they see you live?
I'd recommend "Fantasy", as it represents very well the new set we're playing – tailored to make people dance.
Is there anything that intrigues you most about Asian culture?
Food mostly.
Your music harkens back to 80's era synth pop electronic music, can you tell us what your influences are, and
whether there is any band you look up to the most?
We're influenced by pop music in general. We arrived to these sounds because we're naturally drawn to them, like people from DFA, Hot Chip or Cut Copy today as we often cite.
Have you guys heard of any bands from Asia? If so, who do you guys dig the most?
We met Helen from Nova Heart when we were in Beijing last year.
What bands are you all listening to now?
A lot of Kendrick Lamar's new album at the moment, especially "King Kunta". Shamir is also coming very strong with his debut album released on GODMODE/XL, saw him at Trans Musicales Festival and it was wicked. Tobias Jesso Jr, his album is fantastic, his first recordings as well.
This or that questions:
Night or Day?
Night, either for work or leisure.
Beer or Wine?
Beer, but it's a tough one for a frenchman.
Daft Punk or Justice?
Daft Punk since childhood.
Monochrome or Colorful?
Monochrome
Baguette or Cha siu bao?
CHA SIU BAO !
Denim or Chinos?
Denim
Thank you Juveniles for participating in this interview, learn more about Juveniles on their Facebook and Soundcloud.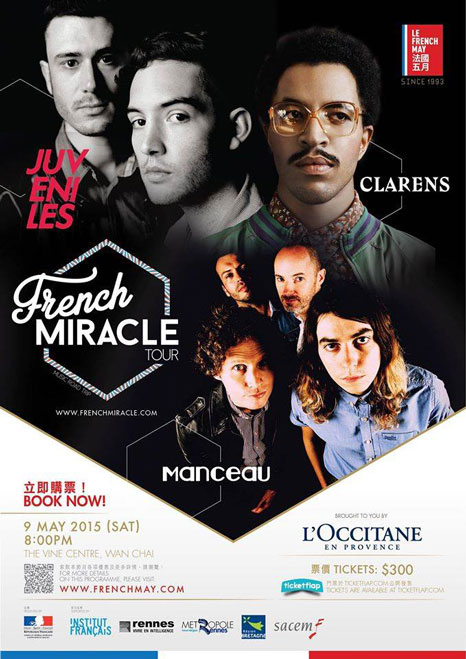 The French Miracle Tour: Clarens, Manceau, Juveniles
Date: 9th May 2015
Time: Doors Open 8pm
Venue: The Vine Center Wan Chai
29 Burrows Street, Wan Chai, 852 Hong Kong
Facebook event: https://www.facebook.com/events/566718143470168/
Get your tickets on Ticketflap: http://www.ticketflap.com/en/events/503/
—————————————————————————————–
Did you like this interview? Let us know what you thought about it. Also take a minute to subscribe to our RSS and follow us on 微博 (Weibo) for more tasty music bites.
喜歡這篇訪問嗎?留言告訴我們您的想法,或分享給朋友吧!也歡迎訂閱我們的 RSS 或 微博(Weibo)